Entrepreneurship is in the DNA of Seneca HELIX.
Launched in 2014, Seneca College's Health Entrepreneurship and Lifestyle Innovation Xchange (HELIX) is solving real world challenges with venture and design thinking. They invite youth (between 18 to 29) to explore entrepreneurship and social innovation as a career option, and advance their venture ideas. HELIX supports entrepreneurship in all sectors, with a focus on the development of innovative health and lifestyle products and services.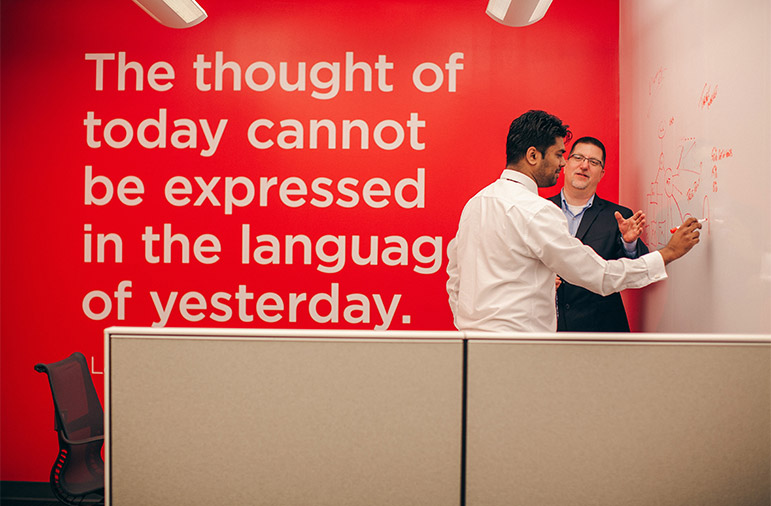 Program participants benefit from a collaborative environment where they can learn from each other, gain extensive knowledge from sector experts in a state of the art incubator setting, and have access to workshops, presentations, cross-disciplinary experiential events, technology, and mentorship. They also have the unique opportunity to pitch their venture idea and receive seed funding.
"HELIX is Seneca's on-campus entrepreneurship incubator, that fosters innovation and entrepreneurship, and provides critical support to turn participant's business ideas into successful, sustainable, and scalable start-ups," says HELIX Director Chris Dudley.
Participants in HELIX's Innovation Strand take part in a series of entrepreneurial workshops and sector-specific support activities. The next step is the ACCELERATION Strand, which provides further opportunity for dedicated enrolment in HELIX incubation activities and mentorship.
The HELIX program promotes creative ways of thinking, and encourages disruptive and innovative approaches to current business norms. In two years, 100 youth-led ventures have accelerated under HELIX — including one company currently valued at more than $4 million — and 296 HELIXers have completed their INNOVATION Strand series of workshops. Annually, approximately 122 young entrepreneurs complete the workshop series and 50 new ventures are supported. Since their 2014 launch, over 3,900 students and young entrepreneurs have engaged in HELIX-hosted innovation and entrepreneurial experiential opportunities.
Seneca College is a founding partner—along with ventureLAB, York University and United Way Toronto & York Region—of communityBUILD, a program focused on developing a social innovation ecosystem in the York Region (and a recipient of our 2016 Civic Innovation Awards).
At communityBUILD's heart is a community of mission-driven entrepreneurs focused on addressing major social issues, whether on a local or global scale. Supporting that community are the resources and supports created from the networks and knowledge of the founding partners.
On October 15 and 22, 2016, Seneca hosted Blueprint: Affordable Housing, a program stemming from the communityBUILD initiative. The original communityBUILD partners were joined by Centennial College, Durham College, York Region, Ontario Ministry of Housing, Evergreen GTA Housing Action Labs, TranQuant, and the J.W. McConnell Family Foundation to deliver the first annual two-day 'design lab' workshop utilizing human-centred design processes to address a social issue affecting the York Region. Blueprint's 100 participants included community members, post-secondary students, and the York Region District School Board (YRDSB).
Moving forward, a new local priority, such as youth unemployment or food insecurity, will be selected as the focus.
Seneca HELIX is a founding partner of Y2, a program helping high-school students learn about business and social innovation through formal workshops (design thinking, building an investor pitch), and mentorship and coaching from entrepreneurs.
The Y2 program has helped more than 100 innovative and entrepreneurial teens accelerate their personal development, and engaged more than 60 volunteer entrepreneurs from the Greater Toronto Area and York Region.
HELIX will host Y2's third event February 25 and March 4, 2017.
Launched in 2015, Seneca ENACTUS allows students to contribute to society through social innovation. At the 2015 ENACTUS Canada Central Region competition, Seneca's team won the "Top Developing Team" award in the TD Entrepreneurship Challenge, where they were up against teams from Centennial College, McMaster University, University of Waterloo and Université de Sherbrooke. Through the team's CODEpreneur program members teach creativity, problem solving and coding skills to local grade 6-8 students. The Enactus team meets regularly in HELIX, Seneca's on-campus entrepreneurship incubator.